Cashel Blue Crème
Country of Origin: Ireland
Established: 2013
Milk Type: Whole Cow's Milk
Pasteurised: Yes
Rennet: Vegetarian
Style: Spreadable Cheese, Blue
What Is It?
Cashel Blue®, Cream Cheese, Fresh Cream & Water combined in a smooth spread. The flavour is mild & creamy with a gentle blue character and a rich smooth texture.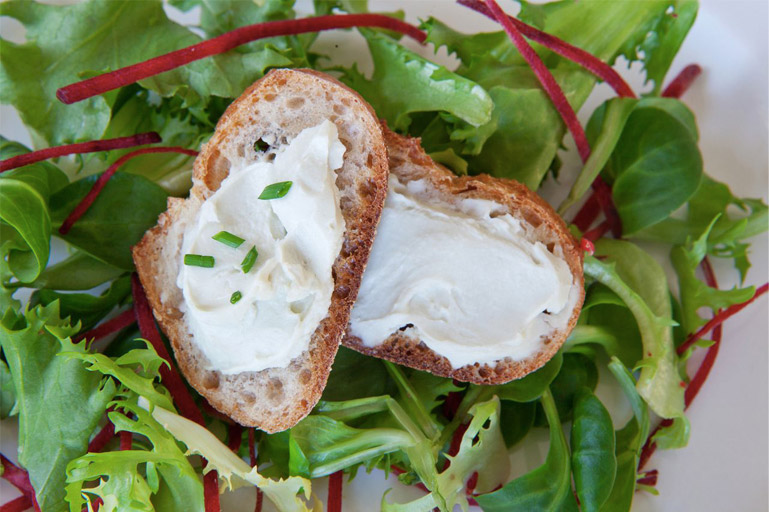 Why?
Cashel Blue Crème is inspired by a dip which for many years we have made for parties at home, stuffing it into celery sticks as an easy canapé. Our ambition is to make our Cashel Blue® less intimidating for non-blue cheese eaters. Sold in a convenient re-sealable tub one could describe it as comfort food, something to grab and enjoy mindlessly along with bread or crackers and your favourite film. It is also a great introduction to blue cheese for teenagers and those who may be a little bit intimidated by the blues.
The Philosophy
We produce our spread on the farm here in Beechmount. It is made from all natural ingredients; Cashel Blue®, natural cream cheese, fresh cream, water and nothing else; you will find no stabilizers or shelf life extenders in this treat! For many producers, especially large scale industrial units, it is standard practice to use xanthan gum, whey powder and frequently potassium sorbate – to extend shelf life and bulk out spreads – this is a route we did not wish to follow as it is not fitting to who we are and the type of things we enjoy to eat ourselves!
In The Kitchen
Cashel Blue Crème offers chefs & home cooks a ready-to-use ingredient for stuffing & spreading with no waste from rinds, and an easy to reseal format reducing food waste.
Serving Suggestions:
– Quite simply spread on crackers or bread,
– As a dip for carrot or other vegetable sticks,
– With Chicken Wings (heat it up in the microwave and it turns into a hot sauce)
– On a burger or steak
– In a hot Panini with roast beef, chicken or roast peppers
– Stuffed in mushrooms and baked as a simple starter
– Stuffed into the cavity of cherry tomatoes as a canapé idea
Some Recent Awards:
2014- Silver Irish Cheese Awards
2014- Bronze International Cheese Awards, Nantwich
Ingredients:
Cashel Blue® Cheese (pasteurised cow's MILK, salt, rennet, starter cultures and Penicillum Roquefortii) Natural Cream Cheese (pasteurised cow's MILK, salt,) Fresh CREAM and Water.
Allergy Advice:
Contains milk
Nutritional Information
Typical values per 100g
| | |
| --- | --- |
| Energy | 1426kJ/345kcal |
| Fat | 31.7g |
| Saturated Fat | 20.7g |
| Carbohydrate | 1.1g |
| Sugars | 0.7g |
| Protein | 13.2g |
| Salt | 1.2g |