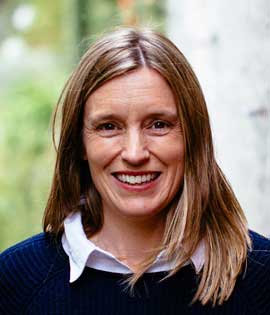 Sarah Furno
Joint Owner and Cheese Maturer. Sarah is responsible for keeping the show on the road – sustainably growing the family business. With a true passion for food, she loves visiting fellow food producers around the world. She is a mother of three budding foodies!
Sergio Furno
Joint Owner, Cheese Maturer and occasional Cheesemaker. Sergio's greatest loves are Italian football, home brewing and elaborate foodie experiments. His heritage is a rice farm in Northern Italy.
Jane and Louis Grubb
Founders and Co-Directors of the company, Together Louis and Jane created Cashel Blue in 1984. Jane describes Cashel Blue as her baby that has grown up. A creative and hands-on person, she is now retired and enjoying life on the farm with her grandchildren. Louis, the semi-retired entrepreneur, continues to closely follow activities in the dairy. Louis loves a good story, fixing up his old boats and botany.
Louis Clifton Brown
Quality Assurance and Environmental Manager. Louis keeps us on our toes, and our standards high. He is our No.1 fixer and systems-guy. The greater the problem – the louder he sings. When not in the dairy, he can often be found singing on a local stage.
Geurt Van den Dikkenberg
Head Cheesemaker. Geurt worked with us for over 20 years, and is responsible for creating Crozier Blue. His passions include walking and food – he loves a good curry! Geurt hails from another home of cheese, The Netherlands.
Przemyslaw Magalinski
Cheesemaking Team Leader. Przemyslaw, originally from Poland is our all round, cool headed likeable guy, who keeps us organised and is making a fine job of learning the art of cheese-making. When not making cheese he may be assisting his wife running her Polish Food shop in local Thurles.
PJ Ryan
Jack Of All Trades. PJ and his family have been involved with the company since the 1980's. First milking cows, then stirring vats PJ now heads up our events on the road. PJ loves ACDC and Tipperary Hurling.
Irene Reale
Accounts Receivable. Irene is a wonderful, straight down the line lady, She's not a lover of cheese but is a great supporter of family business. When not with us she is heavily involved in The Irish and International Girl Guides Association.
Finola Anglim
Administration. Finola joined the team in late 2018 and does a great job in keeping us organised and taking care of the day to day administration at the dairy. She has a wealth of experience in family businesses, having worked with her husband for years.
Pawel Noga
Cheesemaker. Pawel joined us in 2012 having previously worked making soft, fresh cheeses in Tipperary. Originally from Poland, he now has a strong Tipperary lilt and brings great banter to the much needed tea break. He loves doing up old cars.
Clara Marie Tracey
Marketing. Clara is charged with the project of selling our blue cheeses to France and the Benelux, a tough task!  She leads a double life, split between cheese and music.
Majella Gearon
Grading. Majella joined the team in 2007. Since 2014 she has been working in the grading and selection of our cheeses. She is a keen advocate of Irish food anda  great lady to have a smile on her face at all times, a true team player.